IGO Available for Term for the following carriers:
Assurity-Nonmed-term
Prudential
Transamerica
Minnesota Life
North American
United of Omaha
Lincoln National Life
IGO Available for UL Products for the following carriers:
Prudential
North American – GUL only no Index products available
New Processing Tips
Reviewing applications thoroughly before submitting can potentially decrease overall underwriting time. Please make sure all agent and client signatures are present and all questions are answered on the application as well as the Agent's Report.
Please make sure vital information is not missing from applications such as: payment mode, face amount, term length and class applied for.
Encourage your clients to schedule their exams sooner than later. If we are ordering the exam, feel free to pre-set an appointment with your client and I will get it covered.
Please note the OCBIS Exam Order Form 5-15 has been updated to show the plan of insurance. Some carriers have different medical requirements depending on the plan. Please discard any old forms and start using this one immediately. 
If you order your own exams, please let us know in advance so we do not order a duplicate.
Please be advised that the examiner leaves a brochure with the client along with their bar code number so the client may access their lab results online. A lot of companies are no longer mailing labs to clients.
If you have a Quick Quote, please submit it along with the application.
Weekly Case Status – automatically generated for every case early Wednesday mornings
All new applications to be fax or mailed securely to ocbis 714-550-0869 or emailed to Jessica at jessica@ocbis.com.
For any questions regarding IGO or Electronic submission, Please contact Jessica Markworth at 714-550-0159 or email jessica@ocbis.com
Tele Under Writing

Prudential
United of Omaha- available through Express Complete Only
SBLI- available through Express complete ONLY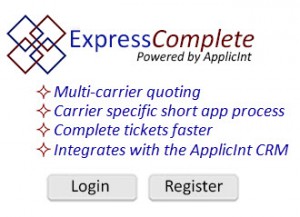 Take a look at this short video to learn more about ExpressComplete from Insurance Designers of America, a member-agency with Insurance Designers of America. And contact us today to get started!